The Brenner Base Tunnel is a 64-kilometre-long railway tunnel under construction through the base of the Eastern Alps beneath the Brenner Pass.
The tunnel has been built to provide high-speed rail through Austria and Italy, the tunnel forms a vital stretch of rail as part of the TEN-T (Trans-European Transport Network), connecting Finland to Malta. With the deepest point 1,700m below the surface, the project involves extensive communications utilizing converging technologies.

Working closely with one of the world's leading communications services providers, RFI Technology Solutions developed a unique LPDA product solution to provide critical communication through the tunnel.
The Problem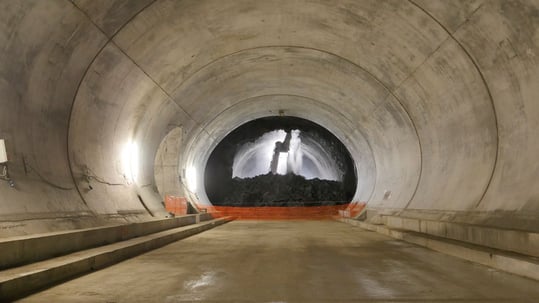 Communications within the tunnel involve coverage over 2 separate bands, UHF and LTE low band. The solution must also satisfy stringent PIM (Passive Inter-modulation) requirements and survivability in tunnel and rail environments.
The Solution
RFI provided an LPDA solution that was rugged enough to handle the harsh environment that is high-speed rail tunnels.
"Supporting critical infrastructure communications is a major part of what RFI do". Kaine Moulder RFI Product Manager Base Station Antennas.

Our LPDA is designed and constructed in Australia using RFI's specialised low PIM welding techniques, offering a complete weather-resistant design, with UV stable plastic fixtures and full ROHS compliance. With wideband performance, this antenna is ideal for the installation of both standalone or even mixed technologies, requiring directional coverage, or a donor antenna. Whilst also delivering the high spec electrical requirements essential to service mixed technologies in today's modern high-speed rail environment.
Click the button below to find out more about our LPDA Antenna range for these specific industrial environments.
Image Credit: Webuild image library